Sifu Scott Jeffrey

Click to Return to Instructors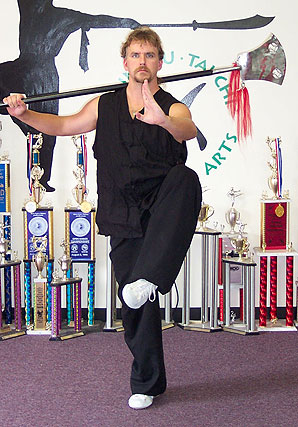 Sifu Scott Jeffery began his martial arts journey at the young age of twelve with Shotokan Karate. This soon developed into an appreciation for all martial arts including the study of Tea Kwon Do, American Combat Karate, Judo, and Western style Boxing. At the age of 16, Sifu Jeffery, got his first taste of Chinese Northern Praying Mantis Kung-fu and began a study of the Chinese martial arts that continues to this day. For that past 16 years Sifu Jeffery has dedicated himself to the practice, study, and research of all aspects of Chinese martial arts including, but not limited to, self-defense, history, philosophy, meditation, healing, and education.
Since 1993 Sifu Jeffery has been fortunate enough to be able to make the teaching of Chinese martial arts his full time career. He has had the great fortune to be able to train with some of the best instructors world wide. Including Instructor/Author Sifu John C. Loupos, Master Weilun Huang, Shifu Li Enjui, Shoalin Monk Shi De Cheng, Sifu Chan Pui, And the late Master Lee Koon Hung. These great teachers have helped to educate Sifu Jeffery and shape his own individual teaching style.
In October 1997, following in the footsteps of Jade forest founder Sifu John C. Loupos, Sifu Jeffery opened the Rockland branch of Jade Forest Kung-Fu, Tai-Chi and Internal Arts, which is still in operation today. Sifu Jeffery has committed himself to the physical, mental, and spiritual growth of his students.
In 1999 Sifu Jeffery was invited to travel to mainland China to continue his study of kung-fu as well as Chen Style tai-chi. This was to be the first trip of many to the country and people that he has grown to love. In 2000 he made his first trip to the world renowned Shaolin Temple, where he began that study of traditional Shoalin Style Kung-Fu and Chi Kung(Qi Gong). Since then he has made over one dozen personal trips to China, as well as leading several tours with his students.
Most recently, Sifu Jeffery attended the 2nd Annual World Traditional Kung-fu Championships, where his skills earned him both a gold and silver medal.